15 Charities for Aviation Enthusiasts to Get Involved with Today
Give back locally and globally through the power of flight
Read Time: 6 minutes
Sep 26, 2020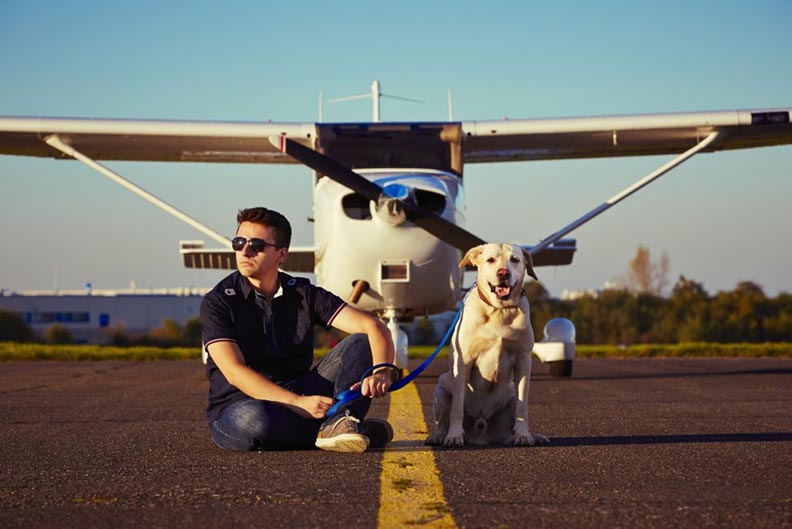 Aviation charities give pilots and hobbyists a chance to use their passion to benefit others. From transportation services for shelter dogs to educational opportunities for disabled children, aviation charities are involved in all the largest areas of philanthropy. No matter your passion, you can give back to your community globally and locally with the power of flight.
Check out the following charities for opportunities to get involved.
Health Charities
These charities focus on providing terminally-ill, disabled, and low-income individuals with transportation to and from medical treatments. Some aviation health charities are focused entirely on patient transportation while others focus on transportation of organ and tissue donations only.
Corporate Angel Network (CAN)
CAN pairs empty seats on private and corporate jets with cancer patients seeking specialized treatment. This comes at no cost to the patient, giving them a comfortable flight and diminishing some of the financial burdens of traveling for healthcare treatments.
How you can help: Corporations can join the network of fleets providing free seats via a screening process. Individuals near the Westchester County Airport can donate their time in the main office scheduling flights, generating press coverage, registering new patients, and placing print ads. CAN also accepts monetary donations, bequests, and securities.
Veterans Airlift Command
VAC provides transportation for wounded veterans and their families. These flights are offered for both medical and compassionate purposes and will transport people across the United States.
How you can help: Pilots who meet certain requirements can begin flying on VAC missions. Plane owners can also register their planes without registering as a pilot to have their plane used in the program. Monetary donations are also accepted.
Flights for Life
24/7, 365 days a year, Flights for Life (FFL) provides transportation services for the United Blood Services. FFL transports blood, tissues, and organs throughout Arizona.
How you can help: Volunteers for FFL donate their time and use of their planes for transportation purposes. Volunteers are from all professions, but pilots must meet a set of requirements to fly for FFL.
International NGOs
INGOs, standing for international non-governmental organizations, are non-profits with outposts located globally. These organizations do not have any ties to the government and usually provide humanitarian services.
Wings of Hope
Wings of Hope provides national services to the United States for medical transportation. It's larger program provides medical treatment and resources to communities globally. Currently, Wings of Hope serves Latin America, Africa, and Asia.
How you can help: Wings of Hope's volunteer needs change throughout the year. It's best to check their page for current openings. Positions include aircraft avionics, aircraft mechanics and helpers, and experienced pilots. Individuals can also contribute by becoming a member.
Airlink

Airlink has partnered with 80 non-profits globally to act as a liaison for organizing and planning flights with corporate airline partners. Started in 2009, Airlink focuses on finding solutions for shelter, food, water access, and medical aid.
How you can help: Airlink Ambassadors can aid by donating their time to the organization. This can include piloting or other necessary roles for running Airlink's program.
Air Serv
Air Serv provides global disaster relief by providing transportation to teams providing aid to the affected areas. Air Serv currently uses five Cessna Caravans in its humanitarian efforts and is working to add an additional as it continues to provide assistance worldwide.
How you can help: Air Serv brings on volunteers for short term groundwork. However, to get involved in Air Serv as a pilot or mechanic you would need to apply to a job opening with the organization. Other ways to help include becoming an Air Serv Ambassador and spreading or word or fundraising for the organization.
Animal Charities
Animal charities focus on the care, rights, and welfare of animals. Their purpose is to provide relief from abuse, neglect, and exploitation.
Pilots N Paws
Pilots N Paws advocates for the rescuing, sheltering and rehoming of animals using air transportation. It serves as a central hub to facilitate the organization of rescue flights. It provides all the resources necessary to get started in the Pilots N Paws community as a pilot, as a rescue, and as a volunteer offering ground transportation.
How you can help: You can sign up as a pilot or as an animal transporter. Become involved in the forums on Pilots N Paws to get involved in individual flights.
PAART
PAART provides rescue transportation to animals in the Southeast United States. These animals are being transported out of natural disaster areas, hoarding situations, dogfighting rings, and from overcrowded animal shelters.
How you can help: You can contribute to PAART's mission by becoming a pilot, land pilot, fundraiser, advocate, or by taking on an administrative or community outreach role.
Pilots to the Rescue
Pilots to the Rescue connects pilots with animals that need to be rescued. The organization first began when the founders decided to go out of their way to rescue 10 dogs slated for euthanasia. If you're already planning a trip and want to pick up rescues along the way, Pilots to the Rescue can organize this process for you.
How you can help: Pilots to the Rescue needs pilots who are able to transport the rescued animals to their new homes. Pilots pick how often, when, where, and who they'll be flying.
Environmental Charities
These charities are focused on finding solutions to environmental problems through education and advocacy.
SouthWings
SouthWings uses monitoring and survey flights, flights of persuasion, and media flights to bring attention to environmental concerns to the Southeast. These concerns include but aren't limited to, energy sources, forests, coastal resilience, water quality protection, whole communities. This organization offers a perspective of cumulative effects on the environment.
How you can help: Pilots who own an aircraft can apply to be a volunteer pilot for SouthWings. These pilots serve as guides, educators, and entertainers.
Light Hawk
Light Hawk, the sister organization of SouthWings, supports conservation through the 'perspective of flight'. Its efforts are focused on America, Mexico, and Canada and, as of the publication of this article, they have given 282 conservation flights.
How you can help: Qualified pilots can serve as volunteer pilots for conservation flights. Your flights may encompass anything from collecting images to education decision-makers to transporting endangered animals.
Air Shepherd
Air Shepherd saves lives from Michael Parfit on Vimeo.
Air Shepherd is fighting against poaching with the use of drones. They combine advanced surveillance drone technology with a team of rangers on the ground to monitor poacher activity. This organization is a part of the Lindbergh Foundation.
How you can help: Currently Air Shepherd is raising funds to assemble two new surveillance teams and expand operations. You can help through donations, although more assistance may be needed if you reach out directly.
Educational Charities
Above the Clouds
Above the Clouds is a program that serves underserved, disabled, and terminally ill children and teens. It offers three different programs – dream flyer, discovery flyer, and cadet flyer. The mission is to inspire children under stress to go after their dreams.
How you can help: Qualified pilots can work with the three program levels, each holding different expectations. If you don't want to take to the skies try out Above the Clouds' other volunteer opportunities like their ground crew and flight coordinator roles.
Challenge Air
The mission of Challenge Air is to inspire confidence in children with special needs. This is achieved through Fly Days, where kids get to participate in aviation activities and fly as co-pilot.
How you can help: Donate your time, piloting abilities, or computers to help Challenge Air achieve its mission. Those donating their time can help with hangar set-up, ground operations, and marketing assistance.
Fly2Help
Fly2Help provides aviation experiences for children and adults with special needs. It also provides programs for young people interested in aviation as a career. Keep in mind, currently, this organization's only physical location is in the UK.
How you can help: You can help Fly2Help accomplish their mission by donating time, flight hours, or making a charitable donation.
Let's Spread the Word About Aviation Charities
As you can see, there's an aviation charity for everyone to become involved in no matter your passions. Share this article to help fellow aviation enthusiasts get involved in causes they're passionate about.
Don't see an aviation charity you currently volunteer for? Send us your favorite aviation charity and we'll add it to the list.
Keep Up With the Latest in Aviation News
Get the latest updates about the aviation industry on our blog.